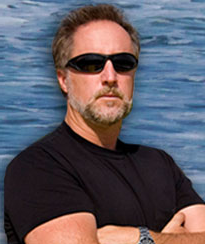 Tres Martin
Instructor/Founder
Tres Martin Performance Boat School
Bio:
Tres Martin was born on November 20th 1963 in Baton Rouge, LA. He is the oldest of a family of three children. His parents, Ralph Martin Jr. and Katherine Dianne Martin moved to Fort Lauderdale when Tres was only two years old. As a child Tres always had a drive for competition. He was a bicycle dare devil and jumped into bicycle motocross where he built and raced his own bike with much success with podium finishes. At age fourteen Tres started working for Everglades Marina, a very well established business in Fort Lauderdale owned by his father Ralph Martin Jr. From mopping floors to cleaning boats Tres learned every aspect of the marine business. He became a certified marine technician and was promoted to Service Manager in a very short time. He then convinced Everglades Marina to start up a customizing and race shop to attract more performance boats enthusiasts and a was a success.
Boat Building:
Due to Tres's knowledge and expertise he has been contracted to start building and designing boats including Championship class race boats for private clients and manufacturers through out the years. Many of these boats were very successful and well known on the National Racing Circuit. Some of the clients he built boats for are Cigarette Racing and Dragon Powerboats.
Research and Development:
One of Tres obsession with boats is Hydro Dynamic's Principal's and Theory's, as well as Navel Architectural Design, and Product Integration. This is a daily ongoing process that began in the late 1980's. Continual testing and documentation leads to further advancement in the industry. Tres spent several years testing manufactures/clients race boats at the once famous Lake X. Tres continues to do this today for private clients and manufactures.
Hull Design:
Tres has been involved in hull design since 2008. Tres designed his first hull for Sunsation Powerboats which proved to set a speed record in Lake of the Ozarks Shootout. He has since designed several hulls for private clients and continues to do so for Sunsation Powerboats on an annual basis.
Racing Career:
Tres started the first successful race boat out of Everglades Marina named "RAZZ" a 41'Apache in which he won the 1988 World Championship. The following year Tres ran another successful race boat out of Everglades Marina named "LITTLE CEASARS PIZZA" a 47' Apache Superboat with triple 1000 HP motors which went on to win the 1989 World Championship where Tres became the youngest Thottleman to win in Superboat Class.
In 1993 Tres built "INXS" a 47' Fountain with triple 1000 HP motors that WON 11 out of 13 Races on a National Circuit clinching the 1993 National Title in Superboat. Tres repeated the same performance in 1994 in a 45' Fountain "INXS".
After 16 years of dedication Tres resigned from Everglades Marina and started his own company "Martin Offshore Inc." The business was very successful as Tres is very dedicated to his customers who  rely on his knowledge and reputation. Each boat that comes to Martin Offshore receives Tres's personal touch.
In 1999 he was approached by Cigarette factory about participating in a few races which were done successfully. In 2000 Tres was approached by one of his customers, "Todd Klindworth" to build a 38' Cigarette named "TEAM VIRGIN" and in the following year a 36' Gladiator and a 40' MTI Catamaran . Both boats were raced back to back on the same day which labelled Todd and Tres the IRON MEN OF OFFSHORE.
In 2001 they won the National and World Title which led to both of them being inducted into the APBA Hall of Fame Champions. Since 1986 totaling more than 66 checker flags, Tres has won 4 National and 4 World Championship Titles from Factory Class to Superboat. Throughout his career, Tres has always been in thetop 3 in National level in points and has been 3 times Throttleman of the Year. Tres brings this world class form to your everyday performance boat or performance boat school.
Boat School:
In late 2003 Tres Martin started what is known today as Tres Martin's Performance Boat School. Due to the new technology of modern hull design many accidents were occurring and he felt compelled to step into this side of the industry to mitigate the risk. Today Tres has taught more than 1300 individuals, including NAVY Seals, Navel Special Warfare Services, US Coast Guard, Mercury Marine and other boat manufactures.
Due to his knowledge and expertise Tres is also a consultant for the marine industries and insurance companies as well as  for legal litigation. Over the years Tres has become very involved with powerboat safety and continues to do research and development on hull design and handling to provide safer on water hull use.